Our homes are no longer just places where we relax and recharge or enjoy quality time with our loved ones in the evenings or over weekends. For many people they now serve as multipurpose work and learning spaces too. In the past year, kitchen nooks have been repurposed into home offices and bedrooms converted into makeshift gyms. With rolling lockdowns and an ongoing concern for our health and safety keeping more and more families at home, homemakers have had to reimagine their homes to create functional, balanced living spaces. Versatility, comfort, and liveable luxury drive the emerging home-decorating trends for 2021.
In line with this, Dulux colour specialists selected Brave Ground™ as the Dulux Colour of the Year 2021.According to Dulux, this warm, earthy tone invokes a feeling of stability, growth and potential – qualities to aspire to given the current global pandemic and economic uncertainty. The choice of colour was inspired by our need for "Brave Ground" and the "courage to embrace change" (as stated in their promotional video content) - a solid foundation for change, reaffirming the need to reflect, reset, and reimagine a way forward. As a foundation for a wider colour spectrum, Brave Ground™ signifies a move towards balance and versatility, and a return to simple ways of living. It embodies the latest global trends and compliments other prominent colour choices like Behr's Canyon Dusk and Pantone's Ultimate Gray. In contrast to Dulux's neutral tone, Plascon's Favourite Hue of 2021 is Golden Syrup, a rich, buttery yellow that evokes a feeling of indulgence, joy, and optimism. In their own words, "[Golden Syrup] invites us to shake off the heaviness of the year gone by and dare to imagine a lighter, brighter future. […] Transform your interiors from hiding places to creative spaces. Better yet fully embrace the audacity of hope and let it reflect boldly on your exteriors too." Plascon's sentiment reflects the motivation for many home-decorating trends in 2021.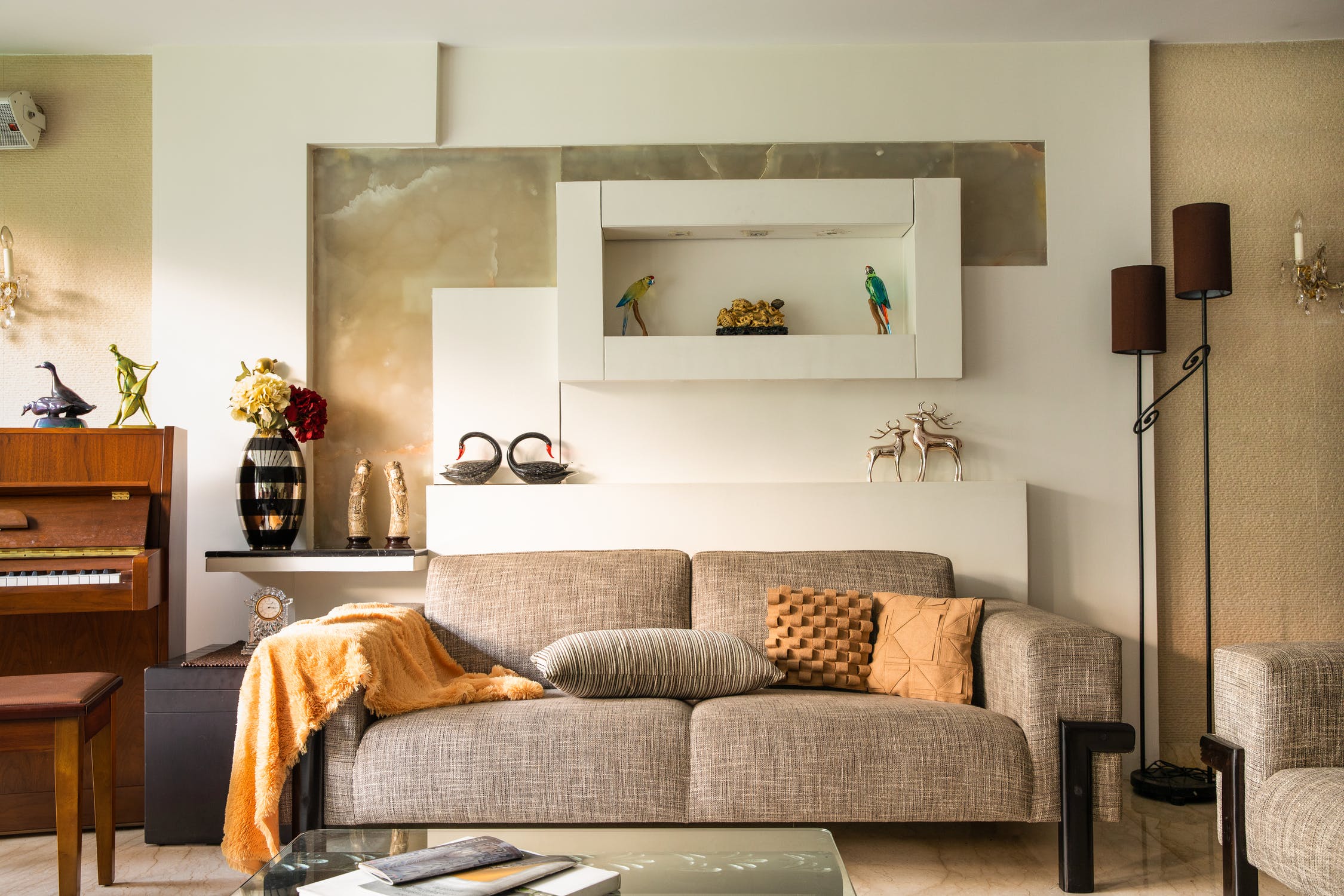 Earthy palettes and textures complement the design mood for 2021. The balanced and deeply soothing colour trends for this year pair well with artisanal crafts and natural materials, emphasising nature's ability to nurture and renew. As expected, 2021 sees the continuation of plaster, travertine, and natural wood elements as statement walls, floors and ceilings in the home – reminiscent of an almost-industrial style with its characteristic exposed stonework, high ceilings, wood and metal accents. Design experts believe this no-fuss style exemplifies the "new normal" for homes serving multipurpose functions. Rattan, wicker and woven materials continue to add texture and warmth, lending an organic element that complements both antique and contemporary pieces. As design elements, they are extremely versatile, appearing in various shapes and forms both indoor and outdoor – furniture, headboards, mirrors, chairs, rugs, lampshades, and storage baskets – and drawing together highly complementary accents like textured wallpaper and rich hues of olive green, Aegean teal, burnt orange and indigo blue.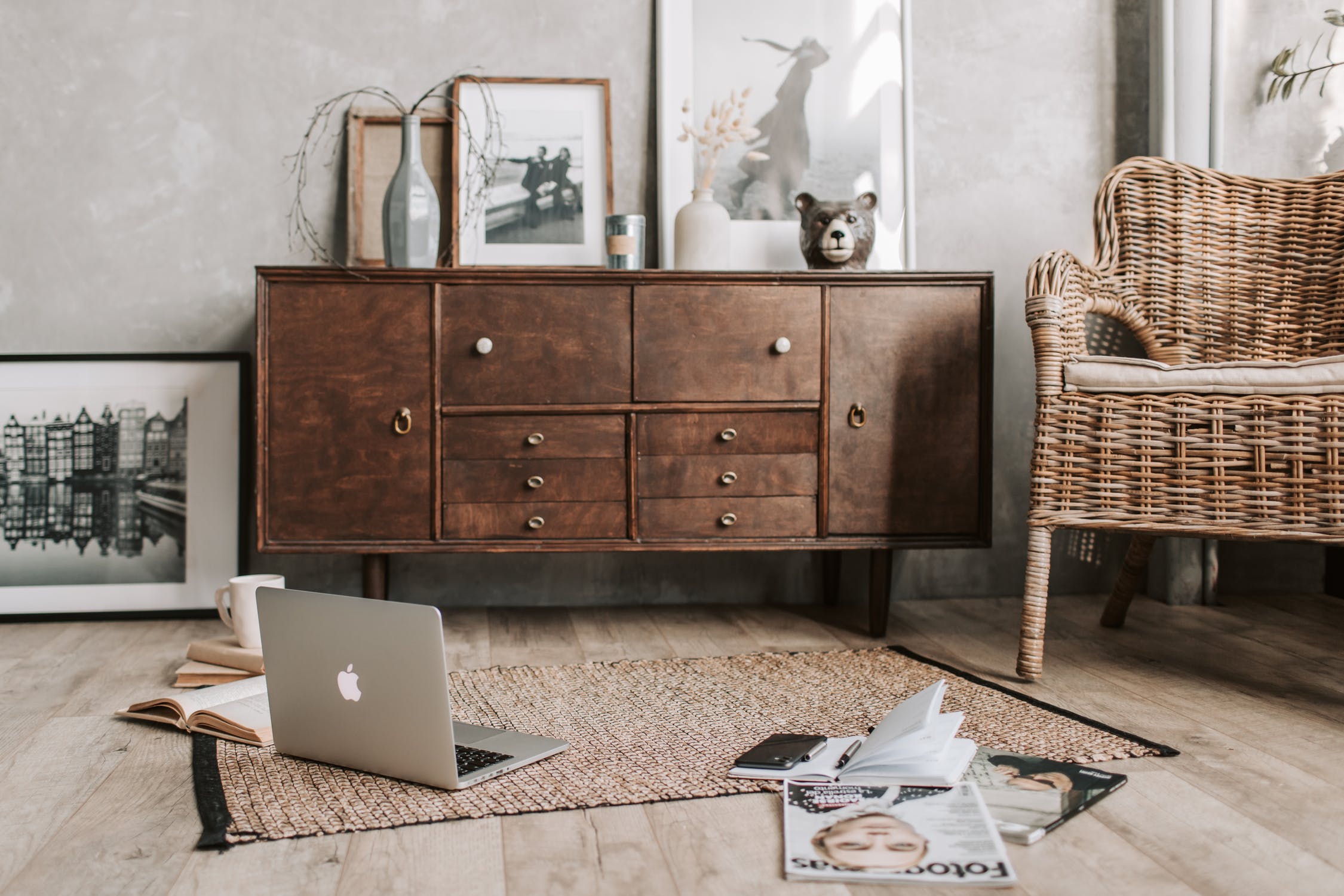 2021 sees the continuation of statement light fixtures, particularly standout ceiling-mount pendants, that command attention and elevate neutral spaces. Artful lighting is a powerful tool in creating visually interesting spaces and setting the overall tone of a room. Whether the aim is opulence or warmth, in a contemporary-styled kitchen or a mid-century modern dining room, statement pieces punctuate a living space – and they come in every shape and form imaginable. As an example, rattan pendant domes offer natural, organic texture to a neutral colour palette, whereas sputnik-style chandeliers add an interesting and eye-catching element to more contemporary spaces. Design experts expect to see traditional incandescent bulbs replaced by smart lighting options, even those in statement fixtures, as more people move towards greener living.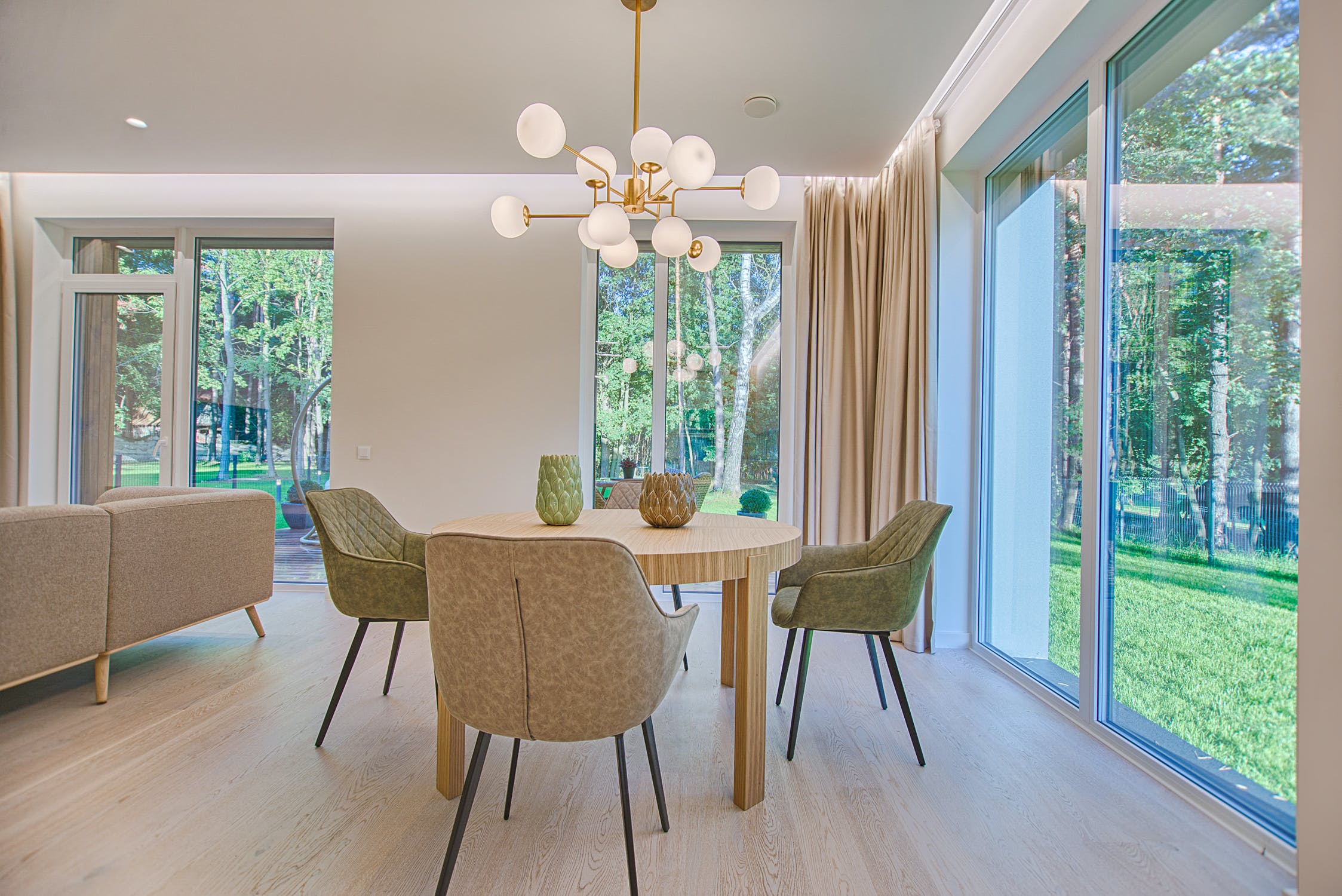 Similarly, natural and recycled textiles continue to grow in popularity as people become increasingly aware and concerned about environmental issues and greener living. Experts believe that sustainable fabrics like organic cotton and wool, vegetarian silk, hemp, recycled polyester, and low-impact linen will dominate design trends going forward. Conscious consumerism will not only impact the types of materials sourced, but how those materials are cultivated and produced, with a renewed focus on environmentally friendly processes. Interior design has seen a significant increase in soft furnishings, bedding, curtains and clothing sourced from sustainable materials and natural fabrics. The desire for longevity, quality and durability notwithstanding. Natural fibres and furniture tend to be more resilient and long-wearing than synthetic materials – an added benefit for families and individuals spending more time at home working and studying.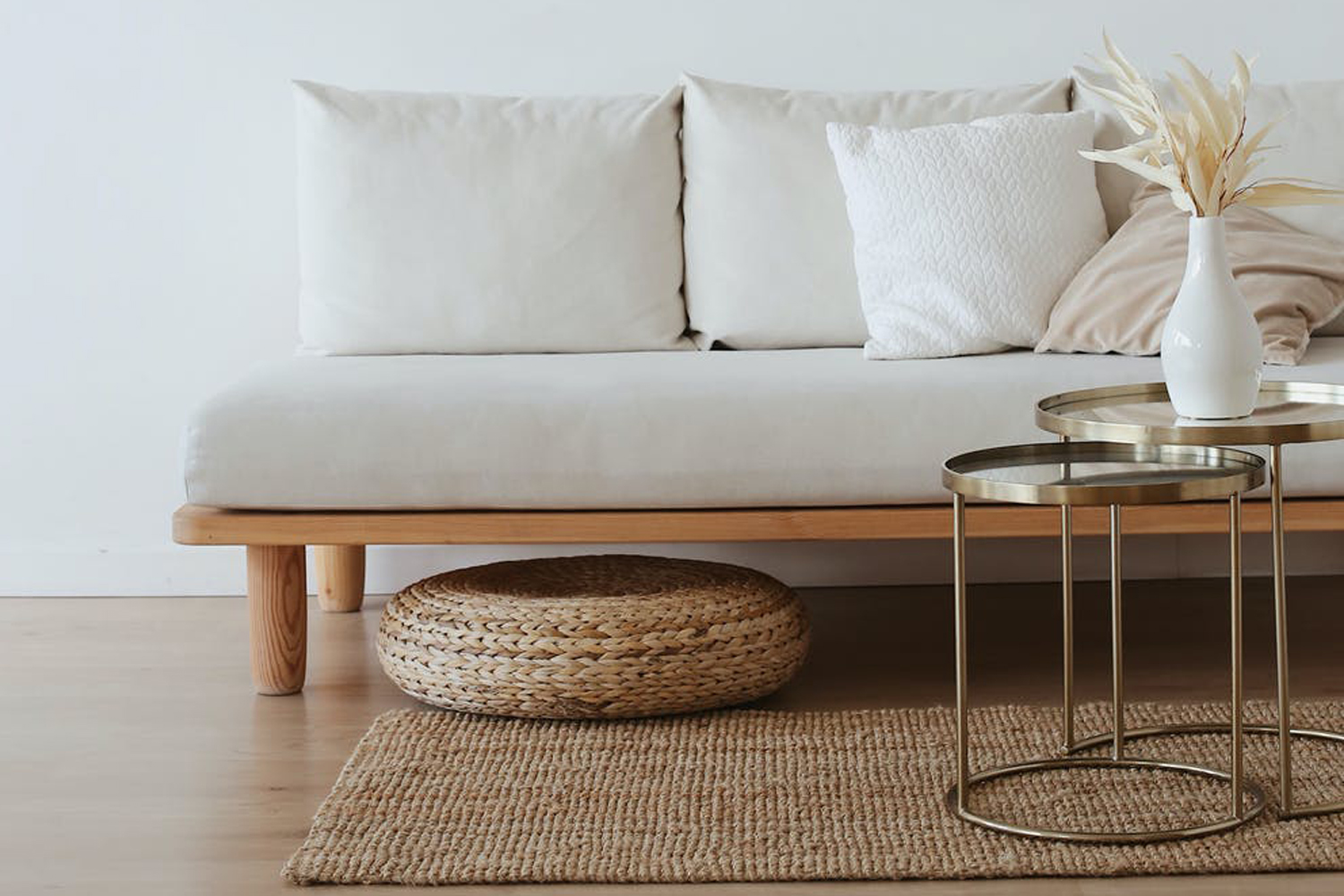 Indoor plants and trees remain a critical element for interior design. From a design perspective, plants enhance living spaces by providing pops of bold colour, organic shapes, and unique texture. They provide balance and harmony to room layouts and may be used to highlight distinctive pieces of furniture or to bring a sense of completion to empty corners or tabletops. In keeping with current trends, there is a growing focus on bringing the natural world indoors and creating a living space that brings calm and clarity. Indoor plants are extremely versatile in size and shape - from easy-care tabletop plants like Cordyline Glauca, to hanging Spider Plants or large potted Delicious Monsters. For this reason, interior designers believe that at the very least each room should boast one plant or floral. What better way to embrace and celebrate the increased time we're spending at home than adding houseplants that studies have shown to improve mood, decrease stress and tension, reduce fatigue and boost mental and physical well-being.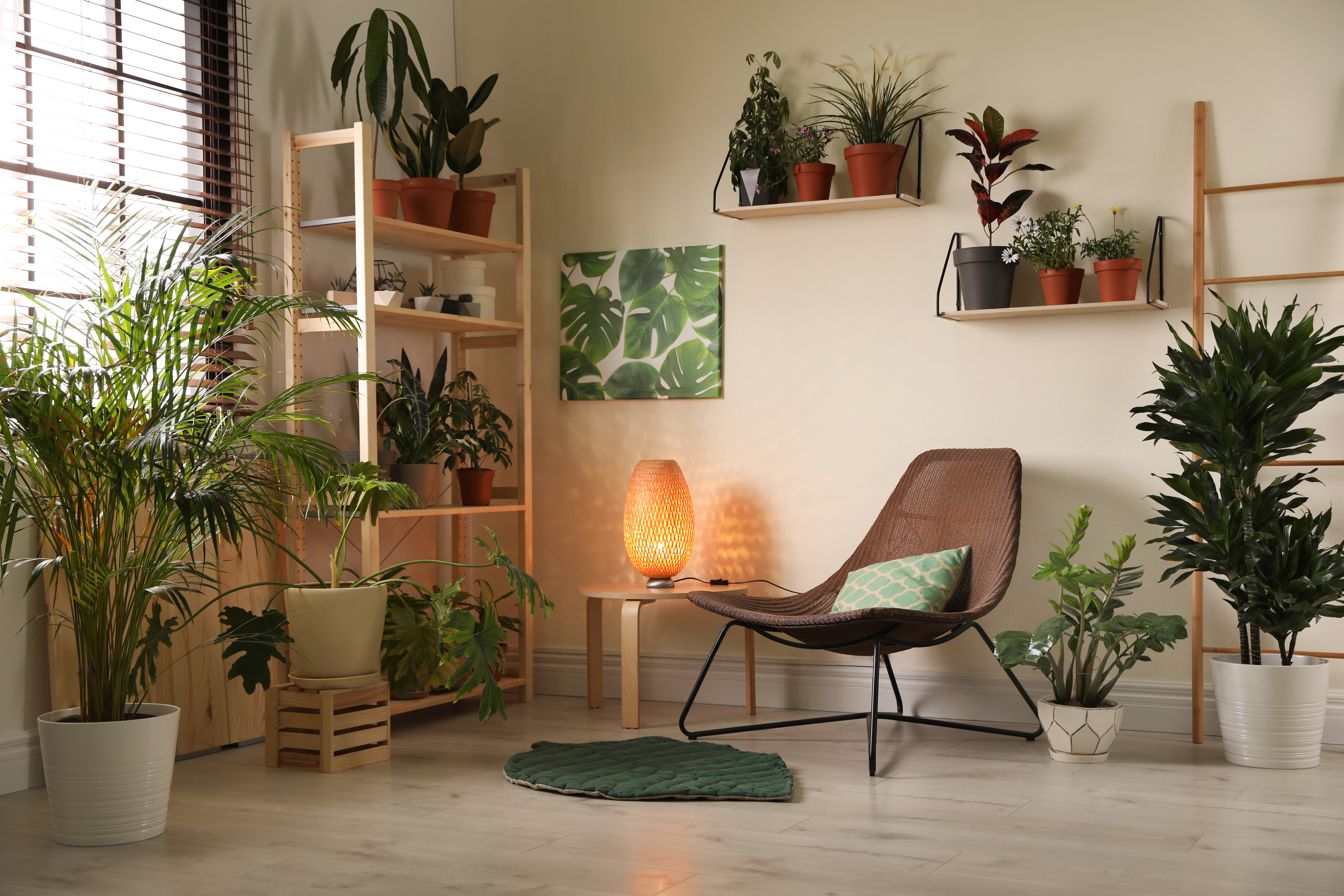 2021 has seen a move away from matching living room furniture sets, which design experts believe may soon be considered out-of-date. Instead, designer homes now feature nonmatching statement pieces of complementary colours and textures, pulled together by scatter cushions and other visually interesting accessories, in a vibrant celebration of individuality and uniqueness. Pairing luxurious leather and rich velvet sofas with a striking rattan occasional chair is the perfect way to flaunt personal style and creative flair. Interestingly, this complements the eclectic "grandmillennial" or "granny chic" style that has risen to popularity in the last few years, showcasing the quintessential design elements and decorative detail you'd expect to find in the comfort of your grandparents' home – floral wallpaper, antique frames, crocheted throws, and vintage accents – reminiscent of maximalist panache. As with the rustic vogue design trend, old and new elements work together in harmony, giving each home a distinct character that balances homeliness and understated elegance.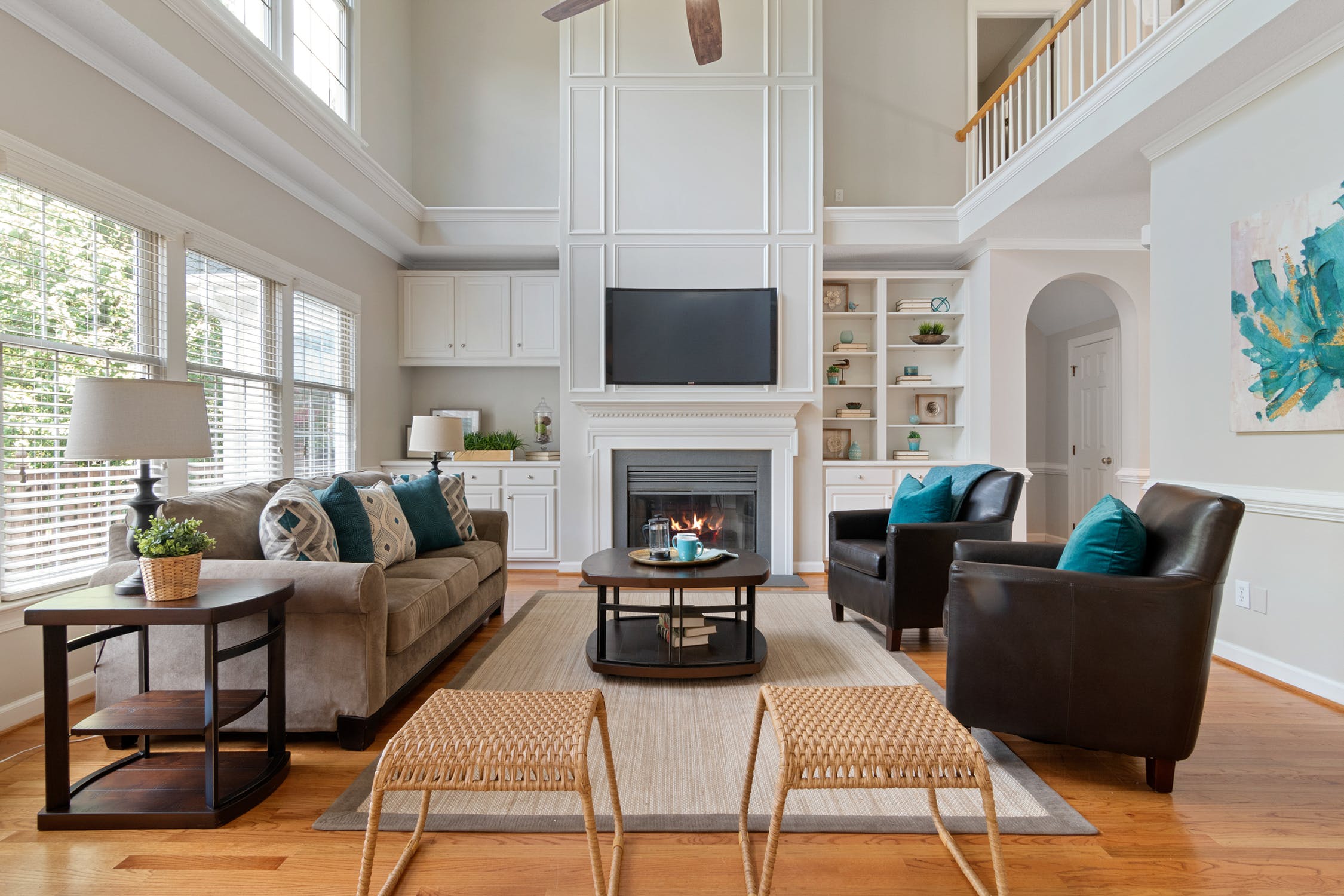 Despite the many challenges of the past year, the interior design trends for 2021 embrace a hope and desire for change that celebrates transforming each and every living space in the home into an oasis of comfort and functionality that brings about peace and balance.